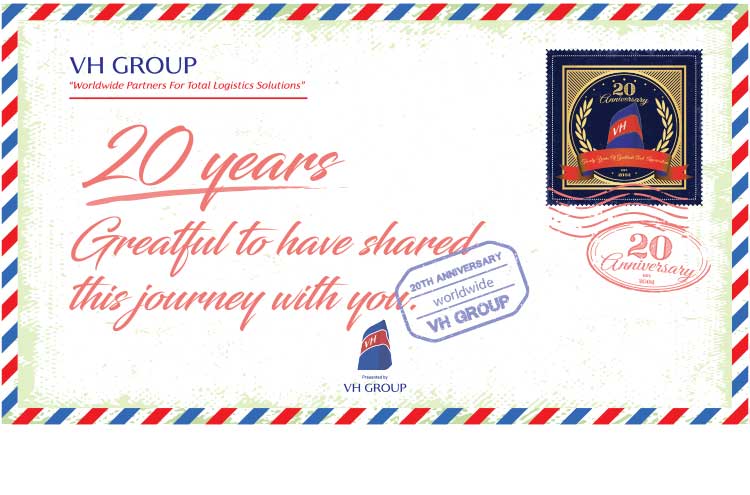 2002 – Venthill Established
Passion for the shipping industry led two friends to start their own business offering ocean and air freight services. In June 2002, their journey began with the establishment of Venthill Sdn. Bhd.
2006 – VH Logistics Established
4 years of hard work and dedication saw Venthill's business grew with a broader diversity of customers. Freight services were enhanced and more comprehensive solutions were added to meet the needs of these customers, led by the establishment of VH Logistics.
2006 – Venthill Headquarters Moves to a New Premises
Growth of the business very quickly saw Venthill outgrow their operational space needing a larger premises to cater for the expansion of manpower and foreseeable growth in coming years.
2008 – VHL Logistics Established
As customers needed more centralized services, it became apparent that a one stop solutions centre was necessary to address this requirement. With more focused service offering that included LCL freight shipping, break bulk, heavy lifts chartering, OoG cargo to name of a few, VHL Logistics was established to lead in this area.
2013 – Perwira Logistics Established – Haulage & Trucking Division
To support customers better with end to end solutions, Perwira Logistics was established to provide customers effective transportation solutions from port to customers' preferred distribution channels. This allowed improved transportation operations minimizing costs and wait times as the fleet and licenses are fully owned by Venthill.
2014 – Hallmark Owned 1st Break Bulk Vessel: M/V Rainbow Symphony
In 2014, a major decision was made to invest in the company's own break bulk vessel named MV Rainbow Symphony to achieve strategic initiatives of offering customers higher levels of service and commitment where previously impossible due to reliance on third party charters.
2016 – 1st Warehouse Purchased: PB1
In line with the company's motto of being a one stop solution provider, customers requiring storage services can now not only rely on Venthill for freight or haulage services; they can also manage their inventory with customized haulage services allowing better inventory management. The PB1 and associated warehousing operations license are wholly owned by Venthill. 
2016 – Securing Customs Brokerage License
With Venthill operating the logistics business on a much larger scale, it was imperative that it needed to have direct management of it's import/export customs clearance process. The benefits gained instead of outsourcing this task to a 3rd party agent was significant as it not only saved customers cost but also time to get the cargo cleared from customs. In 2016, Venthill managed to apply for its own license and does all import/export customs clearance on its own.
2017 – Expansion of Headquarters
15 years in the business,  increased headcount and Venthill once again outgrew its office space. This became a memorable milestone for Venthill looking back at how it started its humble business and grew it to where it is today. An adjoining office lot was purchased to house the bigger team and to further support anticipated expansions as demand for customized logistics services increased.
2017 – Venthill Pte Ltd Singapore Established
To better support its operations with its increasing regional customers, it was apparent that the company needed to establish an office in Singapore, a key shipping hub that connects to 600 ports in over 200 countries. This enabled a significant market expansion for Venthill as customers based in Singapore now not only have an option for worldwide logistics but also better logistical access to Malaysia.
2018 – 2nd Warehouse Purchased: PB2
With demand close to maximum floor space utilization at PB1, Venthill purchased another warehouse on a 2 hectare land with a 35,000 sq ft storage facility to support the increasing demand. The PB2 and associated warehousing operations license are also wholly owned by Venthill. 
2018 – Hallmark Owned 2nd Break Bulk Vessel: M/V VF Glory
With growing support and demand from both local and regional customers, the company made its second investment into a break bulk vessel named MV VF Glory. Venthill's second vessel commenced operations in 2018.
2018 – VH SCL Established
Having anticipated e-commerce operators needing locally managed logistics support for their business, VH SCL was established to provide these e-commerce operators industry designed solutions to enhance the movement of goods more efficiently, targeting shortened delivery periods under voluminous conditions.
2019 – Venthill Homestay – VH Home Sdn Bhd
Venthill's founders have always had passion in photography and that activity have taken them both to many locations in the country. When a business idea that aligned with their photography passion appeared, they chose Taiping, Perak to open their first homestay accommodation. Their great appreciation for the unique history and environment in Taiping is something they have always wanted to share with both local and international tourists.
2022 – Venthill Invests in Glove Manufacturing
At the end of 2020, the Covid-19 pandemic impacted the world and for Venthill, it learned how a worldwide pandemic affected its business disruptively. Therefore after much deliberation in 2022, the company decided to invest as a shareholder in a company specializing in the manufacturing of gloves for use in medical and general purpose.